There have been recent updates made to the Home Office's guidance document for the Tier 2 and Tier 5 sponsors, otherwise known as employers.
The main information can be found on the first page of the document, here: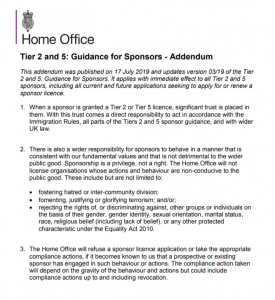 What's important to note is the fact that this is 'effective immediately'. Any sponsors who hold or are looking to get a Tier 2/Tier 5 sponsor licence must pay special attention to these changes. If they are found to not be in keeping with these rules they can have their sponsor licence downgraded or even completely revoked!
It goes without saying that sponsors should be aware of the Equality Act 2010, which is the cornerstone of the anti-discriminatory ethos that is thankfully being ingrained into British society.
We understand that there are blurred lines when it comes to creating this kind of working environment, and sometimes employers can be misjudged for an action that appears discriminatory but is actually just a work orientated action that has nothing to do with gender, marital status, sexual orientation etc. However, employers must be aware of these things when handling difficult situations.
In general though, this is a good change and helps to bring employers and work places into the modern world, where everyone should be treated the same and people are judged on the quality of their work alone and not unrelated personal details. But then again, we should still wait and see whether the Home Office will make it as another 'harsh' requirement for sponsors.
We will keep you up to date on any further changes!
If you have any questions on this please do not hesitate to get in contact on 020 7928 0276 or email into info@lisaslaw.co.uk.