Coming up with an original idea that is also successful, popular or financially rewarding is difficult. If it wasn't difficult everyone would be doing it. Some people will try to skip ahead by taking an already existing product and passing it off as their own, thereby stealing somebody else's intellectual property. Laws have been created to prohibited this and make sure that an original brand or product of any kind cannot be stolen so easily and used for personal gain.
An interesting recent case: Claridge Candles
Denise Shepard thought she was on to a winner with her luxury candles, which she chose to market and label as Claridge Candles, after abandoning her original name of Waxy Candles. She says that she came up with the name after her daughter suggested incorporating their address into the brand, that being Claridge Court in Gillingham.
She added the word 'London' to her branding because she aimed to sell her candles internationally and thought that London would be more recognisable to a foreign audience than Gillingham.
However, massively popular and world renowned Claridge's Hotel took issue with the name and look of these candles – they seemed a little too close to their own brand.
Her candles brandished what she called a 'classy and feminine' Celtic 'C' character below the word Claridge. The font and style used, as well as the word 'Claridge' is what led Ms Shepard to being accused of standing on the shoulders of the 5 star Mayfair Hotel.
You can see how this could be somewhat frustrating to the stakeholders of the hotel, as they do produce branded items such as decks of cards and other trinkets, so it is believable that they would also make scented candles. It is the believably of the link between Ms Shepard's product and Claridge's Hotel that makes up a big part of the problem.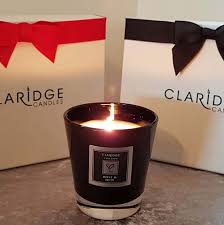 What did the court say?
Judge Douglas Campbell QC said hotel guests and potential customers might believe Ms Shepherd's candles were made or endorsed by Claridge's.
Due to both Claridge Candles and Claridge's Hotel being aimed at a similar demographic of people, there is definitely potential for some confusion among consumers. The judge went on to say:
"Claridge Candles' sign does not merely take advantage of the fact that the hotel's mark is so well-known in relation to hotel services, but also takes advantage of its reputation for luxury, glamour, elegance, and exclusivity"
"I have no doubt that Claridge Candles Ltd's use of this sign does in fact enable them to charge higher prices for their products, and/or enables them to sell more of their products to consumers.'
Deputy High Court and IPEC judge Douglas Campbell ruled in favour of the hotel, finding that Claridge Candles had, in fact, infringed its trademarks.
Mark Caddle, trademark attorney from Withers & Rogers, commented:
"This ruling is a stark warning to small business owners."
Lessons to be learned:
Firstly, if you are a business owner with original brandings and logos, you must copyright your intellectual property. It goes for people who write novels, or make music as well. You never know when someone will try to steal your ideas, no matter accidently or deliberately doing so.
Generally speaking, for a registered trademark, the parties will be able to perform the following actions:
Take legal action (including forgery) against the "infringement" of others;
Put an ® symbol next to the party's brand name to warn others not to use the trademark belonging to the party at will;
Selling and licensing others to use the party's brand name and so on.
If someone else uses a brand name without prior permission it is called IP infringement.
"IP infringement" can be as follows:
unauthorized use, sale or import of patented products or service processes of the parties;
use part or all of the copyright/copyright of the parties without prior consent of the parties;
manufacturing, providing or selling the design (trademark) that the party has registered to obtain commercial benefits;
using the same or similar trademarks that the parties have registered.
In the case of such "infringement", the parties can:
ask the other party to immediately stop using the intellectual property rights of the parties,
solve the disputes between the two parties through a fair third party "mediation" to see what should be done;
finally, take legal action to bring the other party to court.
It should be noted that, in accordance with the laws of the United Kingdom, the use of the trademarks, copyrights and design patents of the parties without the prior consent, or for the purpose of achieving commercial interests, may be entangled in civil lawsuits. It can also constitute a criminal offence.
New company? Check your idea doesn't already exist!
If someone wants to trademark their own brand, they should first investigate with the Intellectual Property Office to see if the trademark they want to use has been registered or whether a similar trademark already exists. To avoid accidentally infringing on the intellectual property rights of others.
If the client is not sure if his or her investigation is sufficiently complete, it is recommended to seek the assistance of a professional lawyer.
It is worth noting that from the above case Claridge Candles Ltd and Denise Shepherd were held liable for trade mark infringement due to Claridge's Hotel's reputation, even though Claridge's Hotel was using its mark in relation to different products and services.
It is also important to keep in mind of that small companies the director will have trouble hiding behind the corporate veil and often will also be held liable.
We at Lisa's Law are very experienced in the area of intellectual property so please do always feel free to fire us any questions, we are open to any instructions relating to copyright and trademark cases!