As many may have read in the news, China has announced it has intention to impose a national security law on the city. Many residents in the city territory worry the law could affect Hong Kong's unique freedoms.
In response to this, Boris Johnson has said the UK will change its immigration rules to offer "a route to citizenship" to millions of people in Hong Kong if China move forward with these plans.
What is this new security law?
You must bear in mind that this has not been made official in China, and details are not 100% clear, but as far as we understand the new security laws would make the following illegal in Hong Kong:
secession – breaking away from the country
subversion – undermining the power or authority of the central government
terrorism – using violence or intimidation against people
activities by foreign forces that interfere in Hong Kong
One of the main concerns is that bringing these laws will affect free speech and their right to protest. In China, this would be seen as subversion and could be a punishable offence.
What has Boris said about this?
Johnson said that if China passes the law, Hong Kong residents who hold British National (Overseas) (BNO) passports will be allowed to come to the UK for 12 months without a visa. At the moment they are allowed to come for six months.
BNO passport holders would be given further immigration rights such as the right to work, and Johnson described it as a 'route to citizenship'.
This would be a very welcome change to the immigration rules for Hong Kong residents, and would give them some much needed breathing space.
At present, around 350,000 people in Hong Kong have a BNO passport, but 2.6m others are also eligible.
What is a British National Overseas Passport and Who Is Eligible for It?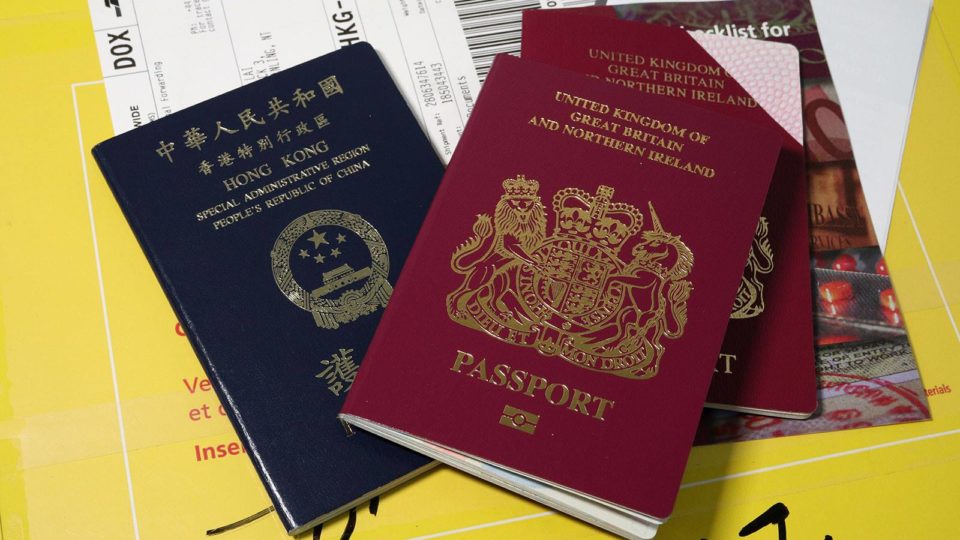 A huge number of Hong Kong residents hold British National (Overseas), or BNO, passports. These are issued by the United Kingdom Government to Hong Kong residents who had British nationality due to a connection with Hong Kong before it was reunited with China in 1997.
There was an agreement made between Britain and China that such people would be entitled to continue to use British travel documents for their lifetime.
Only people who registered before the reunification of Hong Kong with China (1997) are entitled to obtain BNO passports.
Under Hong Kong and Chinese law, these passports are considered simply as travel documents, and do not come with any rights of citizenship on their holders. However, under United Kingdom law, holders of these passports are considered to be British, and are entitled to consular protection if they get into difficulties in any place outside of China.
What's more, holders of these passports are permitted to visit the United Kingdom without having to obtain a visa beforehand. Although, they are not entitled to right of abode.
When resident in the United Kingdom, a BNO passport holder is also entitled to the right to vote in that country. These passports are also recognised by many other countries for visa-free travel purposes.
What Rights Do You Have In the UK If You Hold A BNO Passport At The Moment?
Basically, there is not much more you can do in the UK as a BNO passport holder. You are not allowed to work, do business or settle freely. Although you can enter the UK freely, without need for a visa, you are only allowed to stay for no more than 180 days on any single occasion. Hong Kong passport holders are also able to do so. It appears that the only benefit coming with this type of passport is that you can seek protection from the local British embassy or consular if you are overseas and experience difficulties.
What Has Boris Promised So Far?
It should be noted that what Boris has promised is not an outright amnesty, that is to recognise all BNO passport holders as British citizens right away. He only promises that these persons will be allowed to stay longer on one occasion and allow to work once in the UK.
It is not quite clear how the Home Office will implement such promise, if Boris really wants to act on his words. One way could be to grant status to these people something similar to what Turkish nationals are enjoying. They will have initially twelve months visa. If within this first twelve months, they are able to find work, they will be allowed to apply for longer period of leave to stay in the UK.
After five years, these persons will be allowed to apply for permanent residence in the UK. After another 12 months, they will be allowed to register themselves as British citizens under Section 4 of the British Nationality Act 1981.
Of course, Boris can be more generous. He can ask the Home Office to grant these persons five years visa right away, so that they do not need to apply for extension any longer before they are eligible to apply for permanent residence and citizenship subsequently.
Have questions? Contact us!
We are operating as usual, and you can reach us on 020 7928 0276 or email in to info@lisaslaw.co.uk.
Or, why not download our free app today? You can launch a new enquiry, scan over documents and much more.
If you have an iPhone, follow this link to download.
If you use an Android phone, follow this link to download. 
Find the link here if you need some further instructions on how to use our new app!