Business is operating as usual here at Lisa's Law Solicitors, and we have many brand new developments to ensure a high quality and efficient legal service is provided to our clients.
While rules relating to coronavirus mean people now have to stay indoors, we have adapted and brought in new technology which allows clients to remotely instruct with ease.
Instructing us from the comfort of your own home!
Clients are now truly spoilt for choice when it comes to instructing us, it really could not be easier.
Everything can be done while sitting on the couch, walking the dog, or even lounging in bed!
You do not need to risk your health to instruct us.
Have a read about the new contact options below:
Mobile App
We have developed a brand new mobile app which is available on both iPhone and Android smart phones as well as tablets, which you can download for free on the App Store and Google Play, just search for 'Lisas Law' and it will come up!
On this app clients new and old will be able to launch a New Enquiry with us by filling out a simple and quick form, which will be sent directly to us – it couldn't be easier!
Once the case is underway clients can keep up with all the developments using the Check Your Case function. They will know exactly what stage their case is at in seconds, with a touch of a button.
Getting important information over to us has been streamlined as well, with the innovative Scan Document function. Clients will be able to scan multiple documents at a time, hit one button to convert them into pdf format, then one more button to send them directly to us. It's so simple!
How to use our new app
Simple and Efficient
These are the key attributes of the app. Its purpose is to allow for easier instruction for the client, and faster high quality legal service from our caseworkers.
The following are instructions on how to use the functions of the app once you have downloaded it onto your device: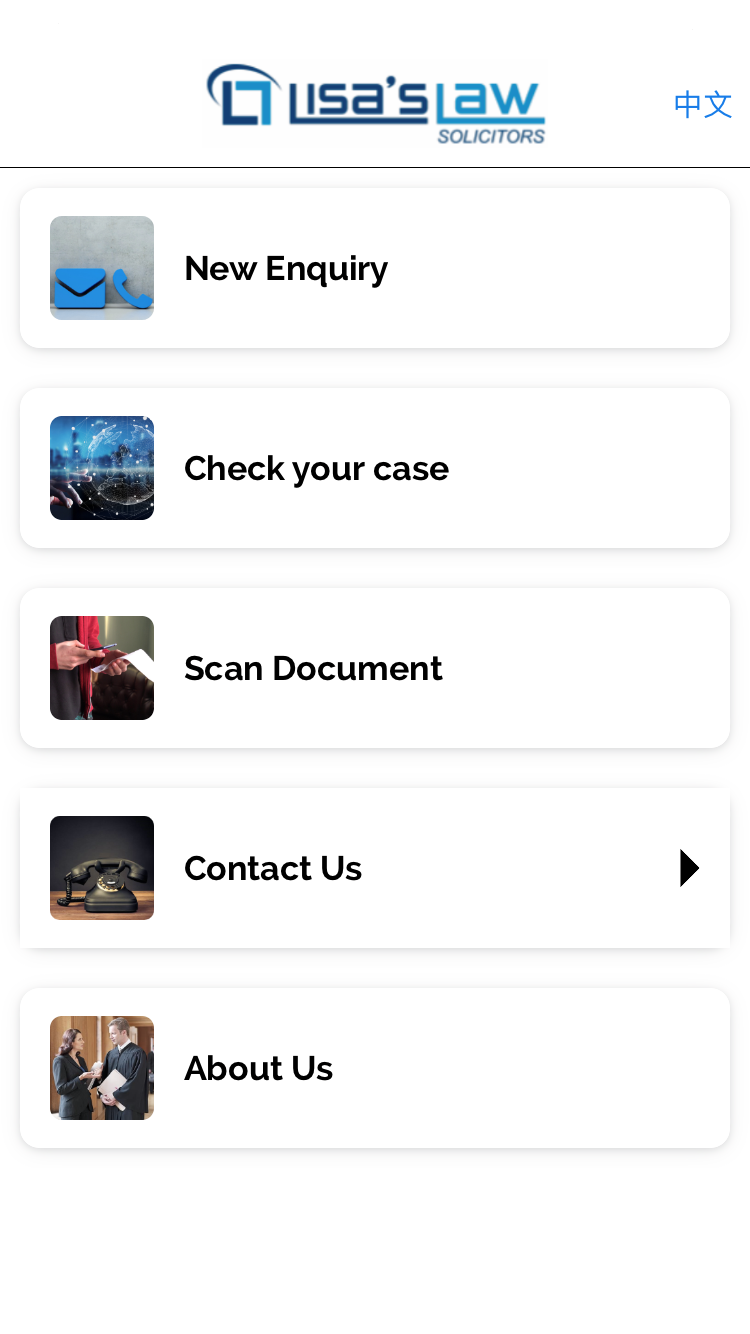 This is the homepage of the app, where you can see its main functions:
New Enquiry – this is where you can start instructing us from scratch.
Check your case – this is where you can follow progress of an existing case.
Scan Document – this is where you can scan and send over documents that are needed for your case.
Contact us – this is where you can find our other contact options.
About us – this is where you can read some information about our firm and our staff.
New Enquiry: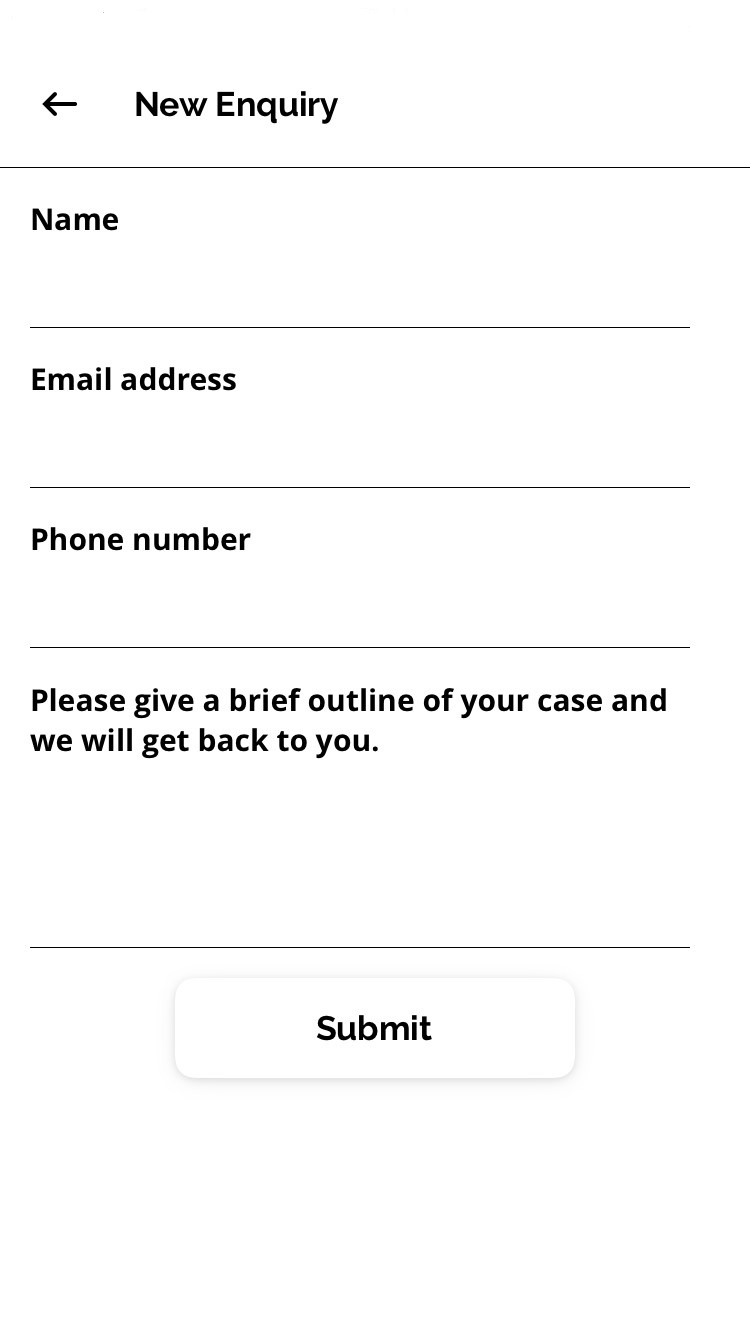 Simply click into the New Enquiry tab, and you will be faced with this very simple form.
All you have to do is fill out your personal details, and then give a brief outline of your case.
It is vital you give us contact information with which we will be able to get through to you.
This information will then be sent to a monitored inbox, and one of our specialist caseworkers will get back to you with a swift reply.
Check your case: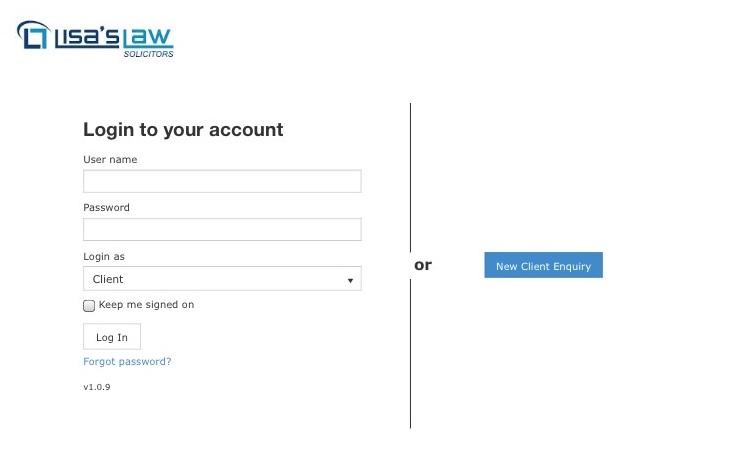 This is available once you have begun a case with us. You will be able to login to Osprey with details from us, and follow the progress of your case, no matter where you are, with the click of a button.
Scan Document: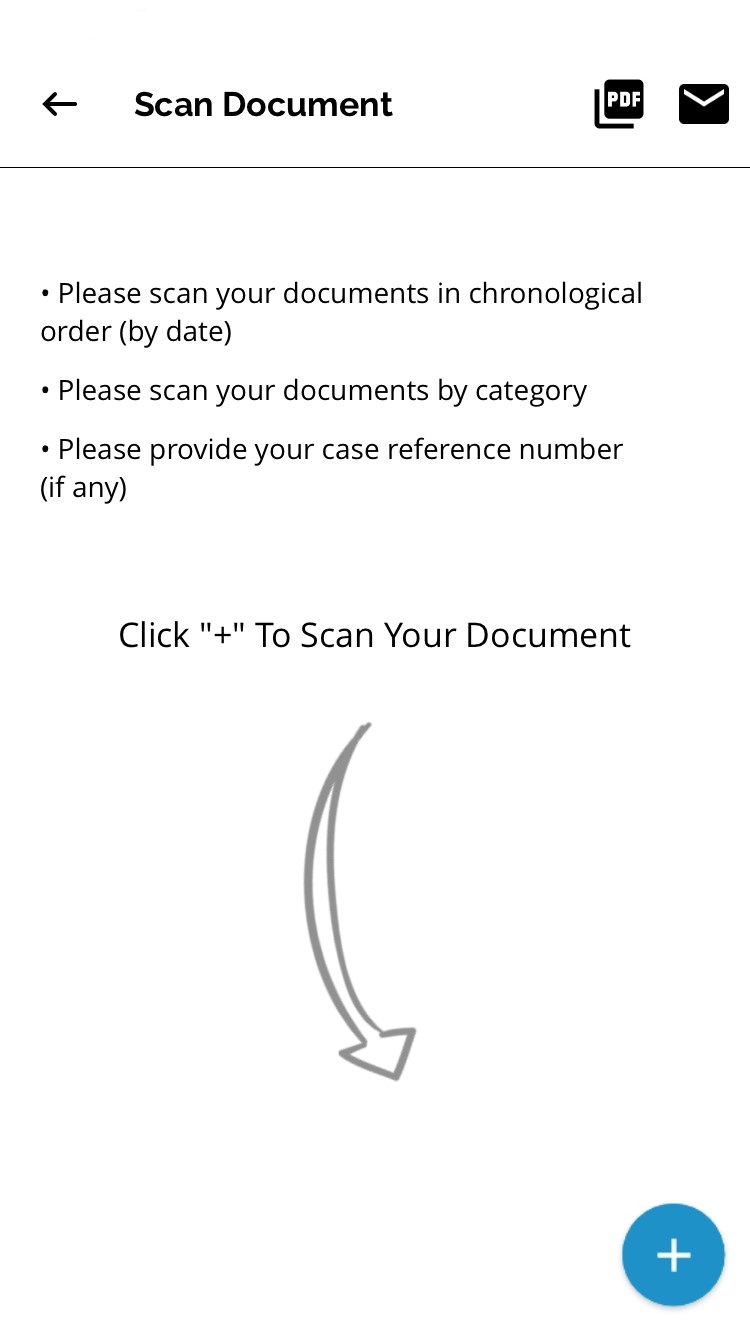 This is a very important part of the app, and it is integral that it is used correctly.
To scan a document, lay the document out flat so that it is easy to read.
Then click the button with the cross at the bottom right of the screen. This will open your phone camera.
You will then be able to take pictures of the documents, one after the other. Please scan them in chronological order, making sure the information has been properly included.
Once you have scanned the documents, hit the PDF button, which will bind them together into PDF format.
Once you've done this, press the envelope symbol. This will then prompt you to enter your full name or case number if you have one. It is vital you enter this correctly.
Once you have done this, will be able to send everything through to our Documentation Inbox safely and securely.
Download the app today, specialist legal advice is just a click away.
Of course, we are here to support you every step of the way, so please get in contact if you need any help at all using the app. Our main concern is client satisfaction
Ask Lisa
Our website has been revamped, it's now easier on the eyes as well as easier to use.
One of its main new features is Ask Lisa. By simply clicking on the Ask Lisa icon, the user will be faced with a very simple form into which they can write down whatever legal issue they need help with.
This will be sent to a specifically created email inbox and answered extremely swiftly by a member of our team. Quick, effective legal advice at your fingertips.
See for yourself here.
Q+A's
Another feature of our new website is a Q+A's section. Here, clients will be able to select from a variety of forums and read existing information or create a profile and write in their own questions which we will then respond to.
Having a bank of questions and answers available on our site is important to us, as we want each visit to our web page to be a learning experience for the user.
Our advanced phone system
If you prefer to contact us by phone. You can call our office on 020 7928 0276 as usual.
Our advanced phone system allows us to answer your queries as usual, whether we are working from home or in the office. Your matters will always be handled with professionalism and integrity.
Our priority is to ensure our clients will not be affected by the current pandemic. 
More ways to stay connected with us?
Email into info@lisaslaw.co.uk, or follow us on Facebook, Twitter, YouTube and LinkedIn!
We are ready for anything
The coronavirus has majorly affected all parts of our society, but we are confident that with these new technologies in place we can keep on working as normal, with the same care and expertise as usual!
We are here for all your legal needs. At these difficult times, we can be counted on!
Looking for a solicitor does not mean that you have to risk leaving your home.