Lisa's Law is celebrating its 10th anniversary as a company. To celebrate the landmark, we are rewarding our loyal customers by organising a competition where you can win a voucher worth up to £250!
The best part is, all you need to do is like the post and leave a comment to have a chance of winning.
It's not just one prize we're handing out though. The person who gets the second highest number of likes will win a £100 voucher!
What's more? We will also offer a lucky draw for all attendants who have joined the competition! As long as you have liked and commented on this post, you will have a chance to win a voucher of your choice with a £50 value. There's nothing to lose!
Read below for the full details and information on how to enter.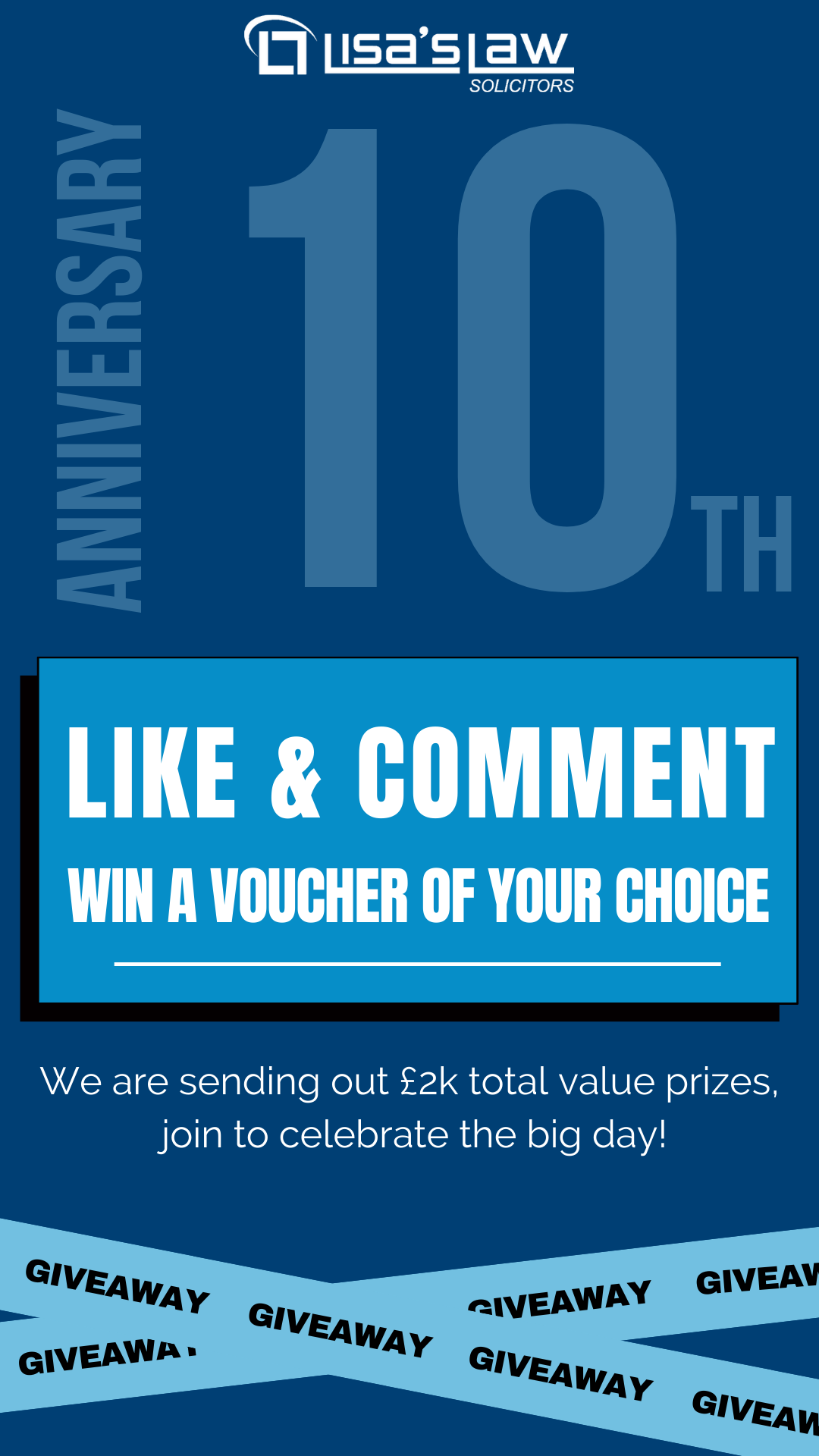 Platforms: Facebook, Instagram, Twitter, WeChat, RED
Prizes – for each platform:
1st – most liked comment: £250 voucher of choice 
2nd – second most liked comment: £100 voucher of choice 
3rd – lucky draw with £50 voucher of your choice
The details of the vouchers you can choose from will be announced in due course.
How to win a prize: Simply like the post and comment below telling us something you love about Lisa's Law. It could be your experience using our service, a piece of content you liked, or even something you learned from us!
So, what are you waiting for? Like and comment now! The competition will run until 10th June and we will announce the winners on 15th June our 10th anniversary.
Here are the links to the various social media channels for you to be in with a chance of winning:
Facebook – https://www.facebook.com/Lisas.Law.Solicitors/photos/a.1165679836797139/5373050259393388/?type=3
Twitter – https://twitter.com/Lisa_s_Law/status/1529427489151500293
Instagram – https://www.instagram.com/p/Cd-j8ntrJvV/?igshid=YmMyMTA2M2Y=
RED – https://www.xiaohongshu.com/discovery/item/628e727b000000000102ab29?share_from_user_hidden=true&xhsshare=WeixinSession&appuid=5c998b220000000011009f56&apptime=1653503016]
For WeChat, you need to share the post to your WeChat moment (朋友圈) and comment on the post you share. You will need to send us a screenshot by end of June 10th to show us how many likes you have received from the shared post. We will announce winners with prizes just like the above rules.
Please note: should winners receive the same number of likes, we reserve the right to pick the winner from those with the same number of likes.
Vouchers to choose from include: One4All, Love to shop, John Lewis, Amazon, Ticketmaster (or, let us know what you would like to add to the list!)