Widespread transmission of coronavirus in the UK is now "highly likely", Public Health England (PHE) has said.
Director for Health Protection Paul Cosford said the country must be prepared.
What's the global situation?
The number of people killed worldwide by the coronavirus has exceeded 3,000, with China reporting 42 more deaths. More than 90% of the total deaths are in Hubei, the Chinese province where the virus originated late 2019.
There have also been deaths in 10 other countries, including more than 50 in Iran and more than 30 in Italy.
In total, there have been almost 90,000 confirmed cases globally, with the numbers outside China now increasing faster than inside China.
How is the UK reacting?
The government has said its plan if the outbreak worsens could include asking recently retired doctors and nurses to return to the NHS to help alleviate the stress on those working in hospitals currently.
People could also be urged to work from home – and closing schools and cancelling major public events have also not been ruled out.
The prime minister will chair a meeting of the government's emergency Cobra committee later, after the number of UK coronavirus cases jumped to 36.
Senior ministers and health advisers will be told that the virus will present a "significant challenge".
A four phase plan
The UK is still in the "containment" phase of the outbreak – one of four phases of the government's plan:
Containment – caring for any infected people and identifying their close contacts
Delay – deciding what actions to take to slow down the spread
Mitigation – damage limitation if the virus spreads widely
Research – constant and ongoing work to inform the three other phases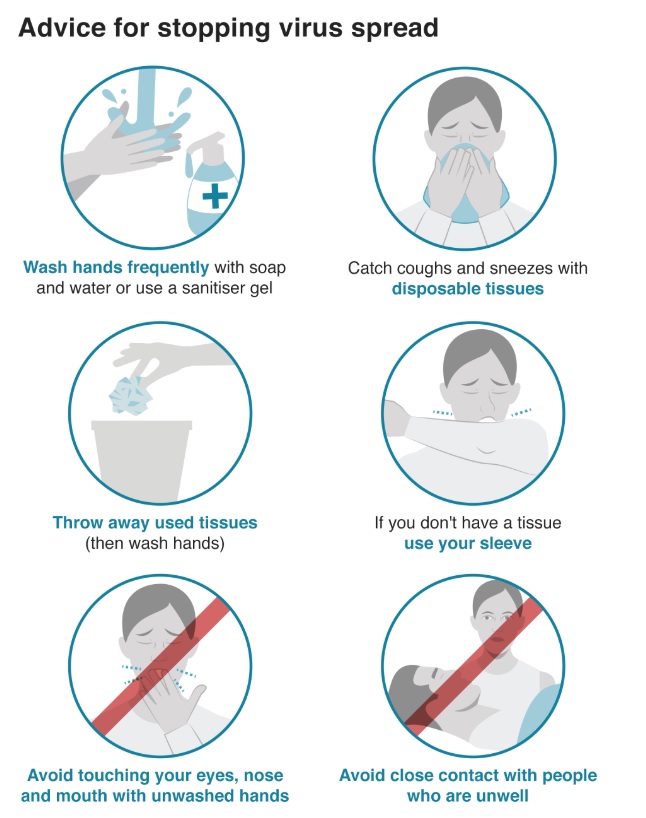 Viruses like this one cannot live for very long outside the body, so it is widely agreed that you cannot catch coronavirus from food, letters or parcels.
A reminder of the symptoms:
The new coronavirus – often referred to as Covid-19 – seems to start with a fever, followed by a dry cough and then, after a week, leads to shortness of breath.
If you think you might have the virus, contact the NHS on 111 immediately.