The amount of people buying properties, fixing them up in a short amount of time before selling them for profit (otherwise known as flipping) has drastically reduced in recent years.
In London just 1,240 houses or flats were sold on within 12 months of being purchased last year, a fall of 86 per cent since the 8,380 flipped in 2002.
In some of the capitals more desirable and affluent locations, such as Kensington, Chelsea and Camden flipping has almost disappeared completely, with only a handful of cases recorded in these areas.
During the early and mid-Noughties this tactic of improving houses and selling them on quickly was a major part of the gentrification of London. Prices were ever increasing, mortgage debt was easily accessible and frequent gazumping allowed novice property developers to make some big money in a matter of months. (Gazumping being the practice of making a higher offer for a house than someone whose offer has already been accepted by the seller and thus succeed in acquiring the property yourself).
In 2014 the profits made from flipping houses reached its peak with, on average, developers selling houses for around £115,000 more than what they originally paid for them in a quick turnaround.
Factors of the decline:
The success of flipping properties had a time limit, and over the past few years some factors have meant less and less people are trying it.
At the moment property prices tend to stagnate, sales take longer. This paired with higher taxes and have made it far more difficult to make money out of a quick buy and sale.
See below a table of the biggest drops in areas property flipping records: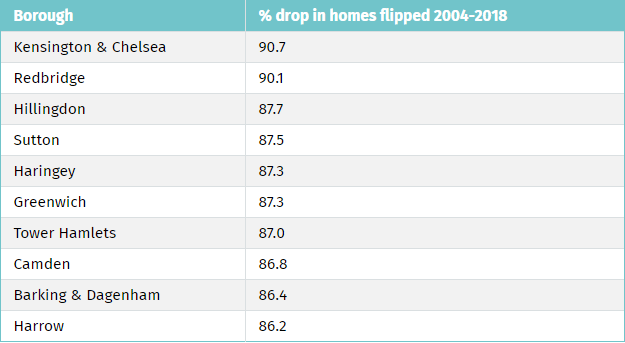 Some factors which make flipping properties risky business these days:
Not having enough time
Even if you plan to sell a house you have fixed up quickly, it might not always work out that way. It can take months to find the initial property you want to invest in, and then you have to factor in the time it will take to complete the renovations. This can be an even bigger problem if you are still relying on your day job to pay the bills. Demolition and construction can translate into lots of lost evening and weekends. If you pay somebody else to do the work, you'll still spend more time that you expect supervising the activity and the costs of paying others will reduce your overall profit.
Once the work is done you have to factor in the inspections that need to be carried out before the house can be sold, and if you are going to be showing off the property yourself to potential buyers you have to factor in this time as well. How much of your own time can you afford to spend?
Not having the skills
If you are a builder by trade, flipping houses is a completely viable and worthwhile option to make some serious money. Many builders resonate properties on the side because they have the skills to do it, and usually have other connections in the trade (such as friends who are plumbers or electricians) to get work done quicker and cheaper.
If you do not know your way around a building site you will need to pay a professional to do all of the renovations and repairs. Accordingly, the odds of making a profit on your investment will be dramatically reduced. Trying to do it all yourself may mean you make worse what is already there, and inadvertently reduce the property's value.
Not doing enough research
Market research is essential. You should talk to estate agents in the area, browse 'for sale' ads and look at houses that have recently sold. This should give you a good idea of what people are looking for in the area. One style of house may be popular in one part of the country, while something vastly design is the winner in another.
Unanticipated Costs
You really must allocated some extra funds for unexpected costs such as building permits, construction delays, delays in delivery of materials, contractor disputes, and holding costs when you are unable to sell the property as quickly as you had hoped.
Stress
Stress can be a major factor during the flipping process. Finding the right property and trying to work out all the costs to succeed in transforming it to meet your vision can make for some sleepless nights. Trying to meet deadlines and finding potential buyers is not always going to go as smoothly as you like
So…
If you are thinking about buying a property to then sell it on we can offer some advice and help you along the way. Our conveyancing team has a wealth of experience and are just a phone call or email away! You can get in contact with us by calling 020 7928 0276 or emailing into info@lisaslaw.co.uk, we are here to help!