Home Secretary Priti Patel has announced more details of the UK's "brand new" immigration system today (19/02/19), which will take full effect on 1 January 2021, which the government has said will open up the UK to the brightest and the best from around the world.
Interestingly, rather than being branded as an Australian style system, this new system in many ways remains much more similar to the current Tier 2 (General) system. The Home Office is, however, trying to be more inclusive and flexible, and non-EU applicants and EU applicants will all be treated exactly the same way.
Important things to know:
The start of this new system will mark the end of free movement in the UK
It will be a points based system, meaning points will be assigned to each applicant based on skills and merits
Migrant workers will need to be sponsored by employers as it will be an employer-led system
How will the points aspect work?
Similar to the current Tier 2 system, applicants will need to get a job offer from an approved sponsor (employer), meet a certain skill level, demonstrate a certain level of English and earn at least the minimum salary.
The below table gives a clear indication of what type of skills or circumstances the Home Office will look at, and the amount of points on offer for each of them.
Bear in mind that to begin the application process, individuals must have at least 70 points.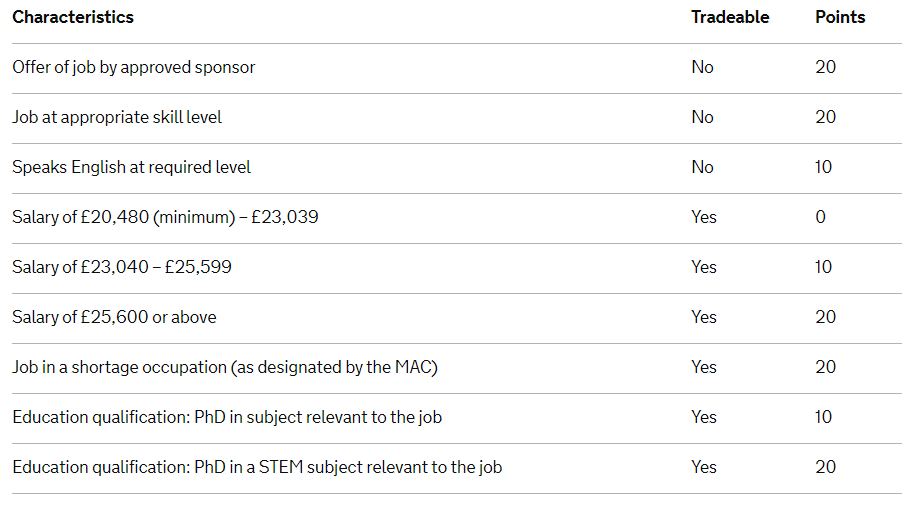 There are a few things we can tell from this – the most obvious is that the more money a person will be earning, the more desirable they generally are.
However, the 'tradeable' aspect is interesting. Based on this we can see that there is some room for compromise in certain cases. For example, a university researcher in a STEM (science, technology, engineering, and mathematics) subject wishing to come to the UK on a salary of £22,000, (which is below the general minimum salary threshold), may still be able to enter the UK if they have a relevant PhD in a STEM subject.
Similarly, a nurse wishing to come to the UK on a salary of £22,000 would still be able to enter the UK on the basis that the individual would be working in a shortage occupation, provided it continues to be designated in shortage by the MAC (Migration Advisory Committee).
The MAC will be commissioned to frequently check and update the Shortage Occupation List.
Skilled work – an improvement for migrants?
Sponsored workers coming into roles that require certain academic qualifications or skills will still require a job offer and be able to pass an English language test. However, the skill level required of them has been reduced from level 6 (degree level) to level 3 (A-level equivalent).
This is an important change, as it will make a lot more job roles available for people to apply to. For example, a level 6 role could be a Creative Director of a company while a level 3 role could be a regular managerial role. Therefore, this change will open up a lot more opportunities for people to apply for positions.
There will still be a minimum salary required for a work visa. The headline salary threshold has been reduced to £25,600, in line with the Migration Advisory Committee's recent recommendation. But it won't be the absolute minimum: some workers earning between £20,480 and £25,600 would still be able to get a visa if they are highly qualified or working in shortage jobs, as demonstrated in the examples above.
So, to be completely clear on minimum salary thresholds:
Applicants to roles on the Shortage Occupation List – £20,480
Applicants who have PhDs in science, technology, engineering or mathematics (STEM) – £20,480
Applicants for people with non-STEM PhD's – £23,040
Applicants who have none of the above characteristics – £25,600
Please bear in mind that applicants will still need to be paid the higher of the specific salary threshold for their occupation, known as the 'going rate'.
There will be no cap:
There will be no cap on the amount of applicants the Home Office will take. If a person can meet the requirements, they will be able to apply for the role. This, of course, will increase how many people apply and will potentially lead to more roles in the UK being filled by migrants who meet the requirements.
Lower skilled workers – completely snubbed?
Perhaps the most significant change to come with these new rules around immigration is the total lack of route for people coming to fill lower-skilled job roles. Instead, the Home Office has asked businesses and employers in the UK to look at the possibility of filling these from inside the country rather than relying on foreign help. This has been presented as an opportunity to improve staff retention, productivity, and wider investment in technology and automation.
Many people are worried about the impact this will have on high street jobs in shops and cafes, let alone factories.
Labour and the Liberal Democrats also condemned the plans while Unison, which represents health workers said they "spell absolute disaster for the care sector".
An interesting move perhaps unsurprising given the voting history of the current Home Secretary and the result of Brexit. We will have to see how it plays out in the future.
EU Settlement Scheme to the rescue?
The Home Office has been singing the EU Settlement Scheme's praises since its inception (unsurprisingly, as they are the ones who invented it), saying that over 3 million EU natives have already applied to stay in the UK through it.
This is what the Home Office sees as its pool of workers already in the UK who can fill the positions that are causing some people to worry about, such as waiters, cleaners and manual workers.
Highly skilled workers
From January 2021, the Home Office will extend the current Global Talent route to EU citizens on the same basis as non-EU citizens. You can read all about the Global Talent route in our recent article here: Exceptional Talent now becomes Global Talent in the UK
Essentially, the most highly skilled, who can achieve the required level of points, will be able to enter the UK without a job offer if they are endorsed by a relevant and competent body.
This scheme has recently been expanded to be more accessible to those with a background in STEM subjects who wish to come to the UK.
Contact us!
If you have questions about this or any other type of legal enquiry, please do not hesitate to contact us on 020 7928 0276 or email into info@lisaslaw.co.uk.