It is no secret that the past year and a half has been challenging in a unique way. The Coronavirus pandemic was unprecedented and took a huge toll on everyday life, including how businesses could operate.
One thing we have learned during the pandemic here at Lisa's Law is that our staff are extremely resilient, hard-working and refuse to give up in adversity! That is why we have been focussing on celebrating them this week, to say thank you for being so brilliant during this challenging time!
Elin Lee and the Conveyancing team
We want to give our conveyancing team a big shout out. They have been particularly busy during the pandemic, especially over the course of the Stamp Duty Land Tax holiday. This holiday caused a huge spike in people purchasing property, which meant Elin and her superb team have been working extra hard to deliver a great service to an ever expanding list of clients.
They have been so successful, you only have to look at all of our recent 5 star Google reviews to see how happy our clients have been! We already knew how knowledgeable and dedicated they were, but they have really gone above and beyond, exceeding their targets and working brilliantly as a team to achieve success! They deserve so much credit (and a good rest!)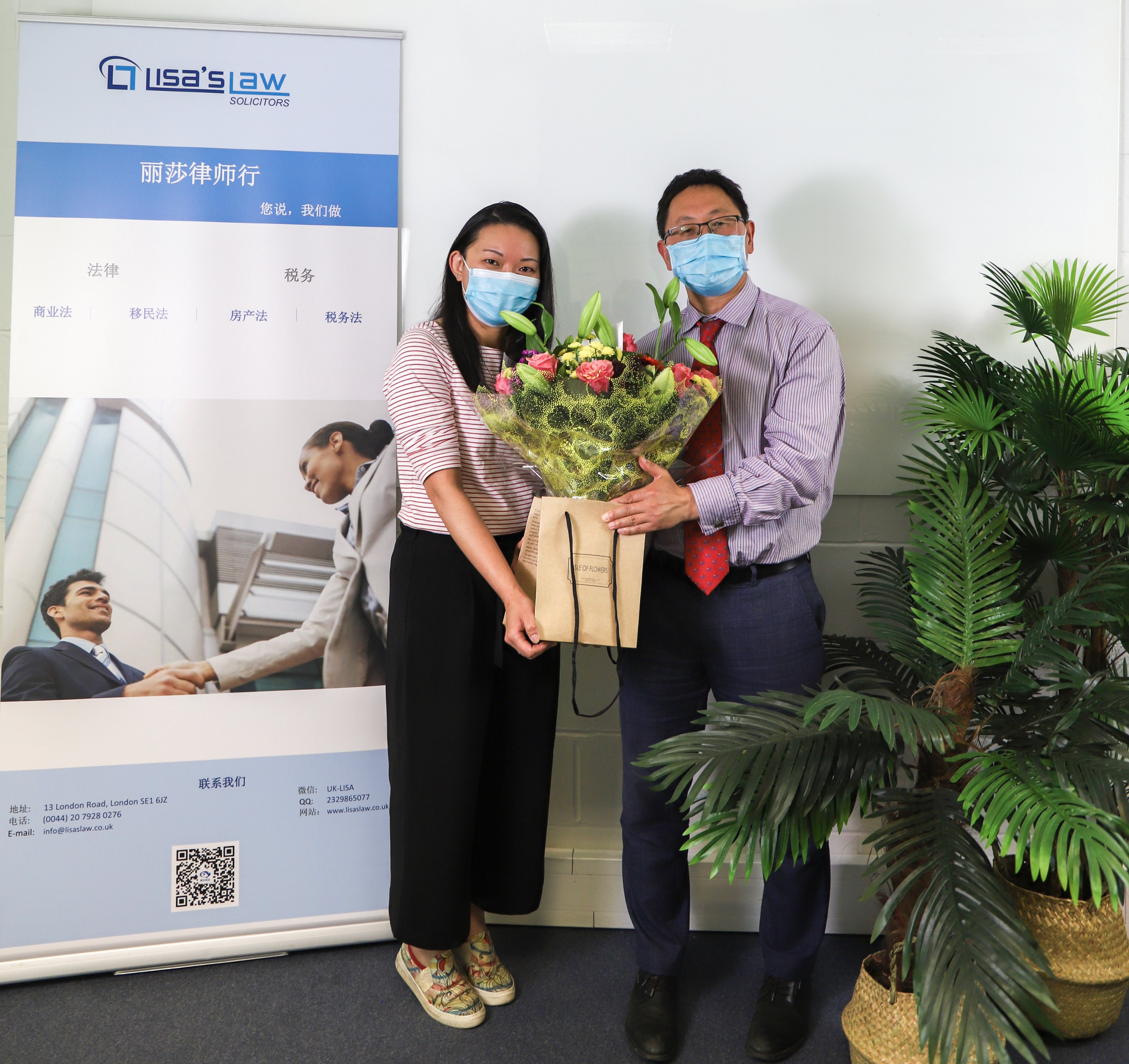 Here is our Managing Director Ding handing some well-earned flowers and a gift card to Elin Lee, who is the Head of our Conveyancing department. Elin has stayed late at the office after often being the first one to arrive, always handles her cases perfectly while supervising and advising her team, never once complaining and always doing it with a smile on her face. We are so lucky to have her and appreciate everything she does!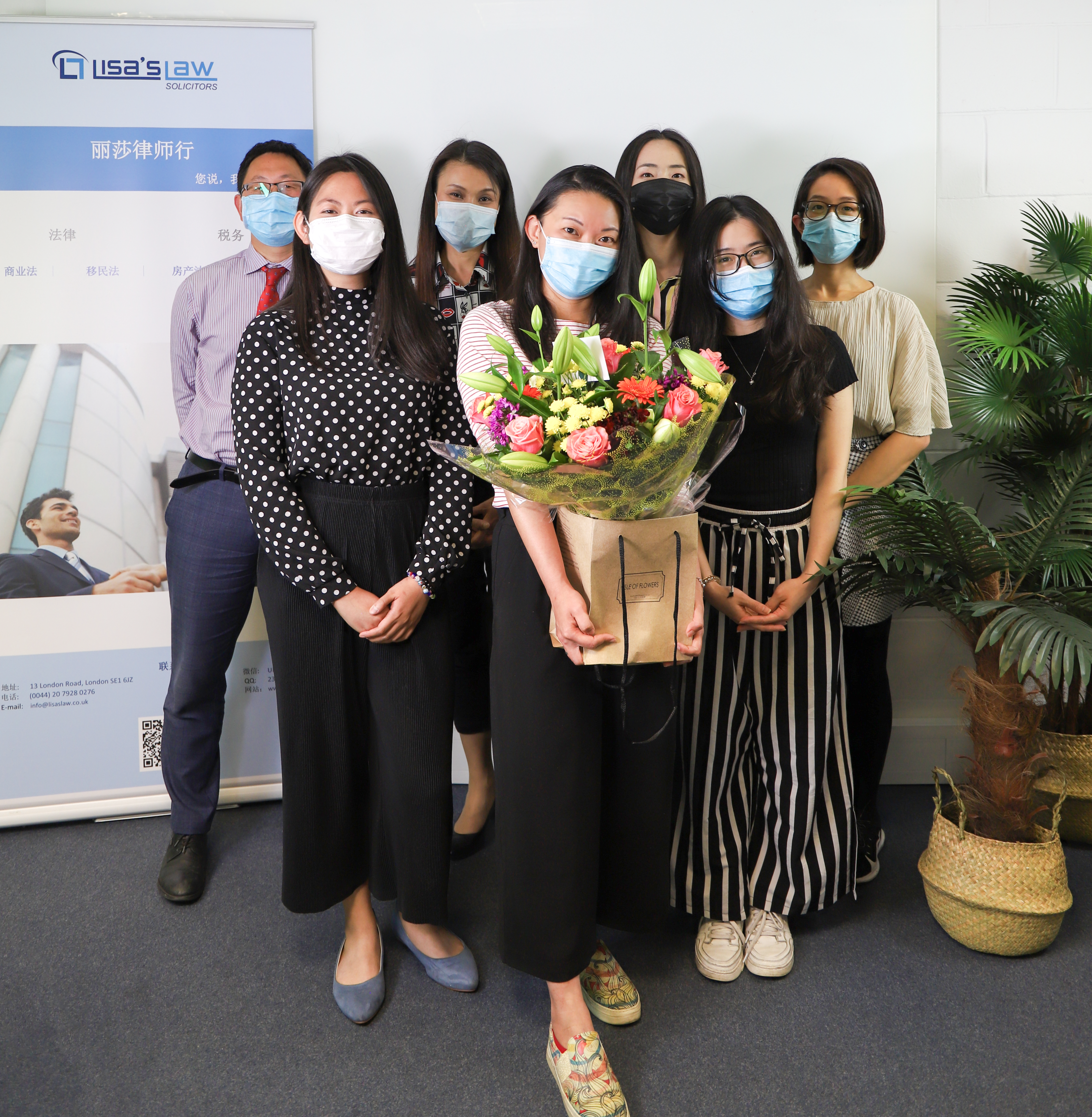 The all-star Conveyancing team! They have achieved so much together and proven that they can work together to get the job done no matter what! We are truly proud of them!
To find out more about our conveyancing services, click here!
Not forgetting everyone else!
We had to say thank you, not only to the conveyancing team, but every single members of staff – from our brilliant receptionists, amazing accounts team, marketing department and of course all of our case workers. They have done so well, keeping up our high standards and definitely deserve a treat!
Every member of staff received a delicious Well Box! It is filled with goodies and is just a way for us to say a huge thank you to everyone for their hard work and dedication. Everyone working from home had a box delivered to their door, nobody missed out!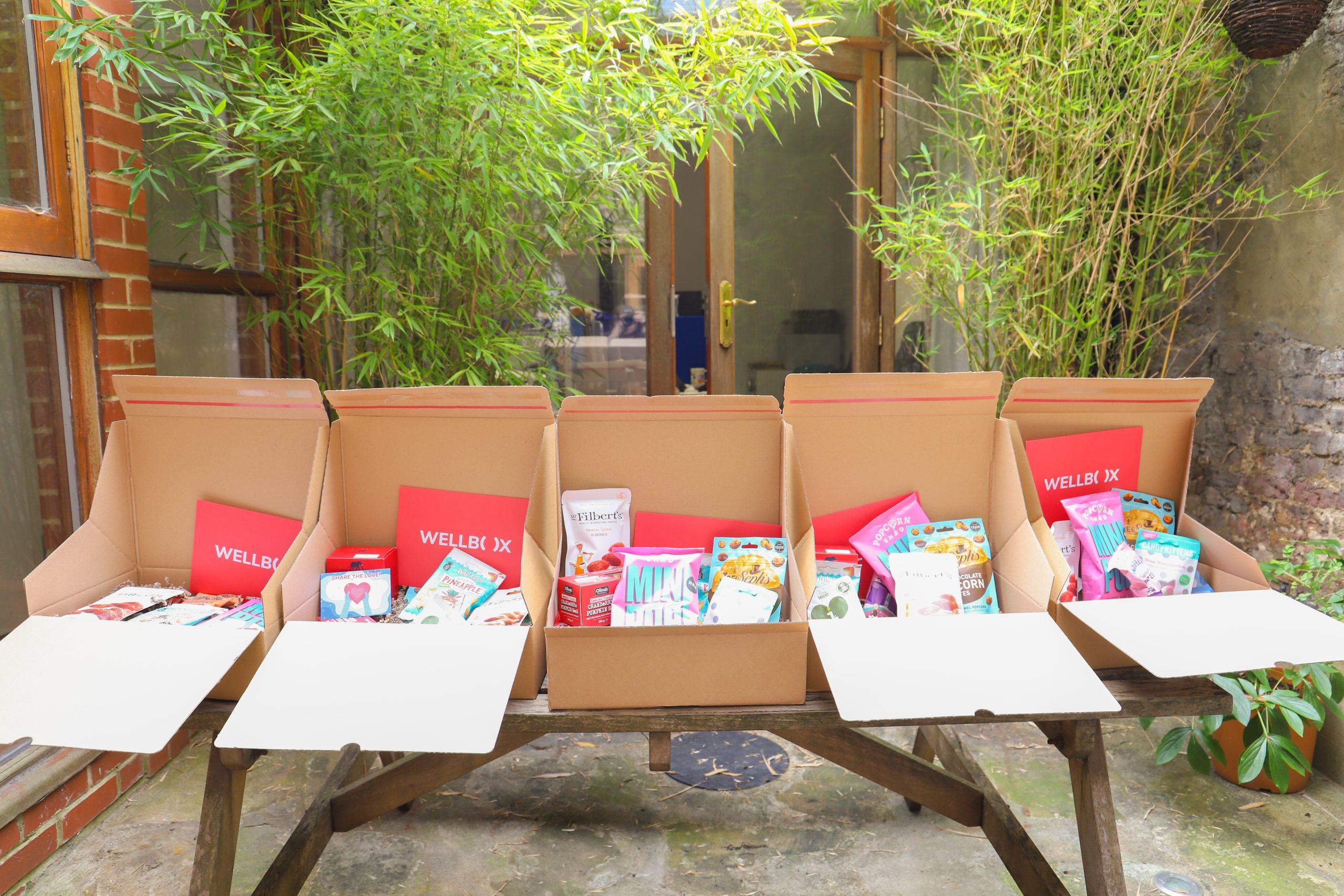 The boxes contain a great range of treats, such as chocolate popcorn, spiced almonds, gummy sweets, biscuits, tea and more!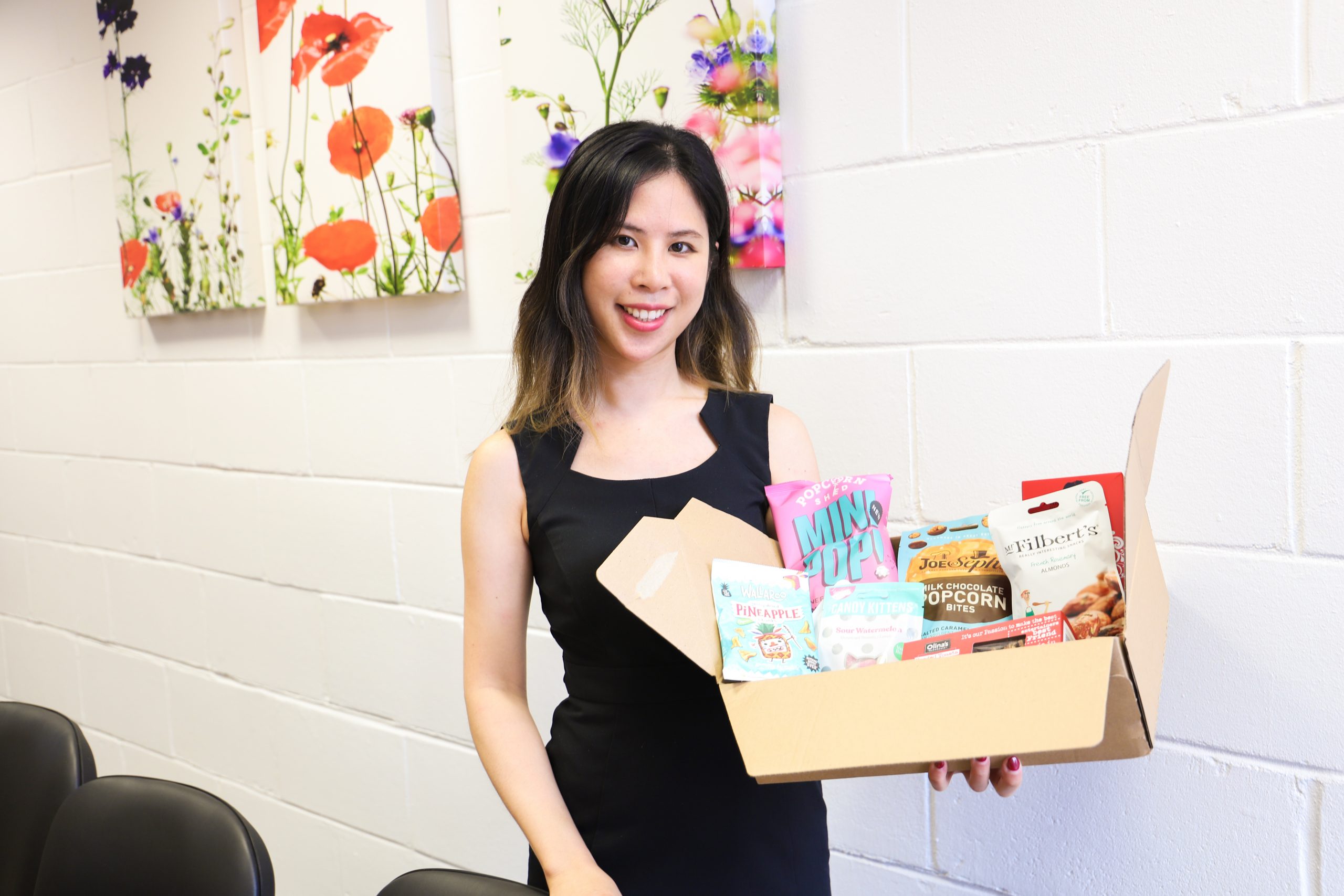 Salina, one of our fantastic lawyers here at the firm, with her Well Box in one of our meeting rooms at our London based office.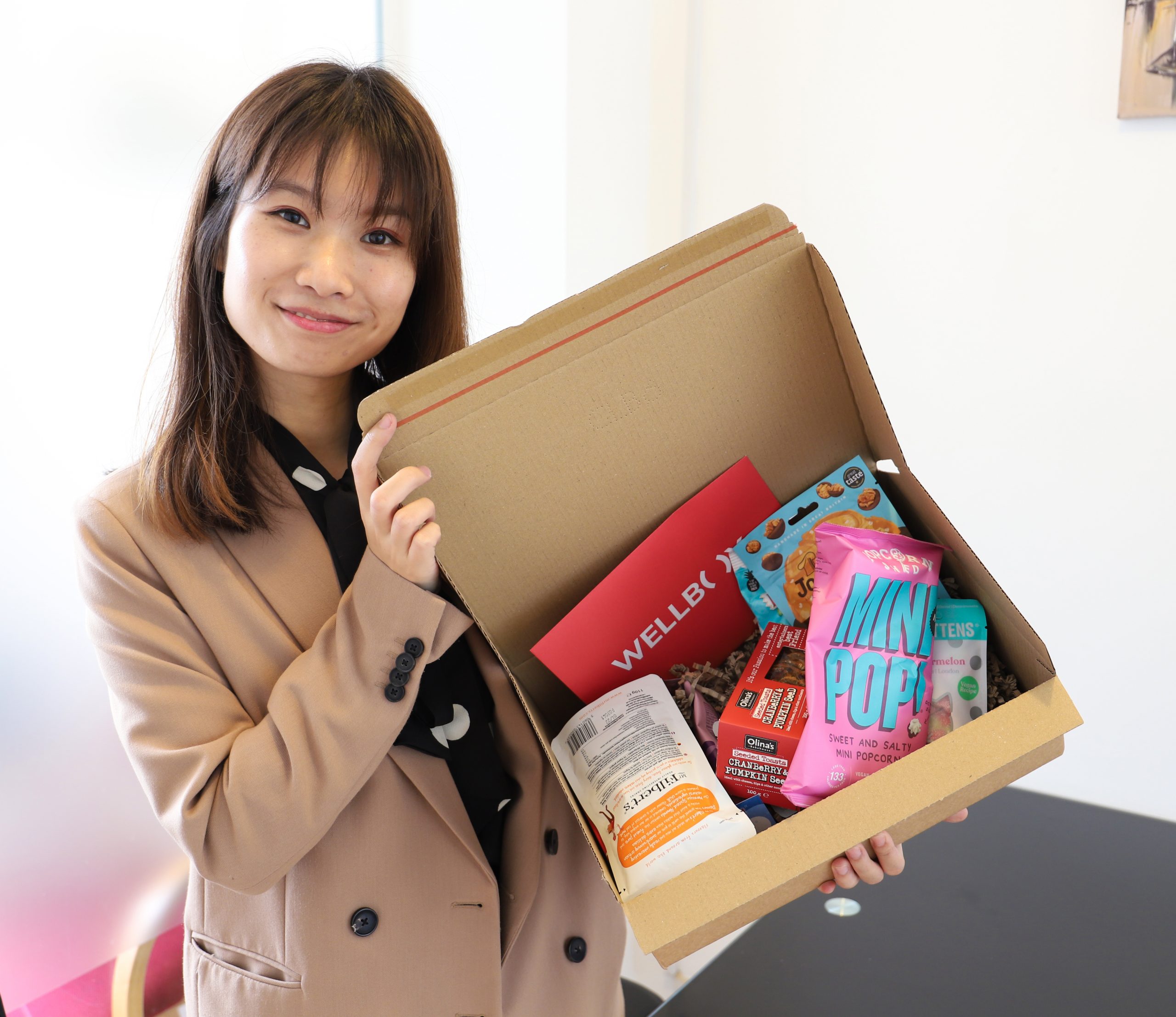 Ruyun is part of our marketing team here at Lisa's Law – we wonder what snack she will try first!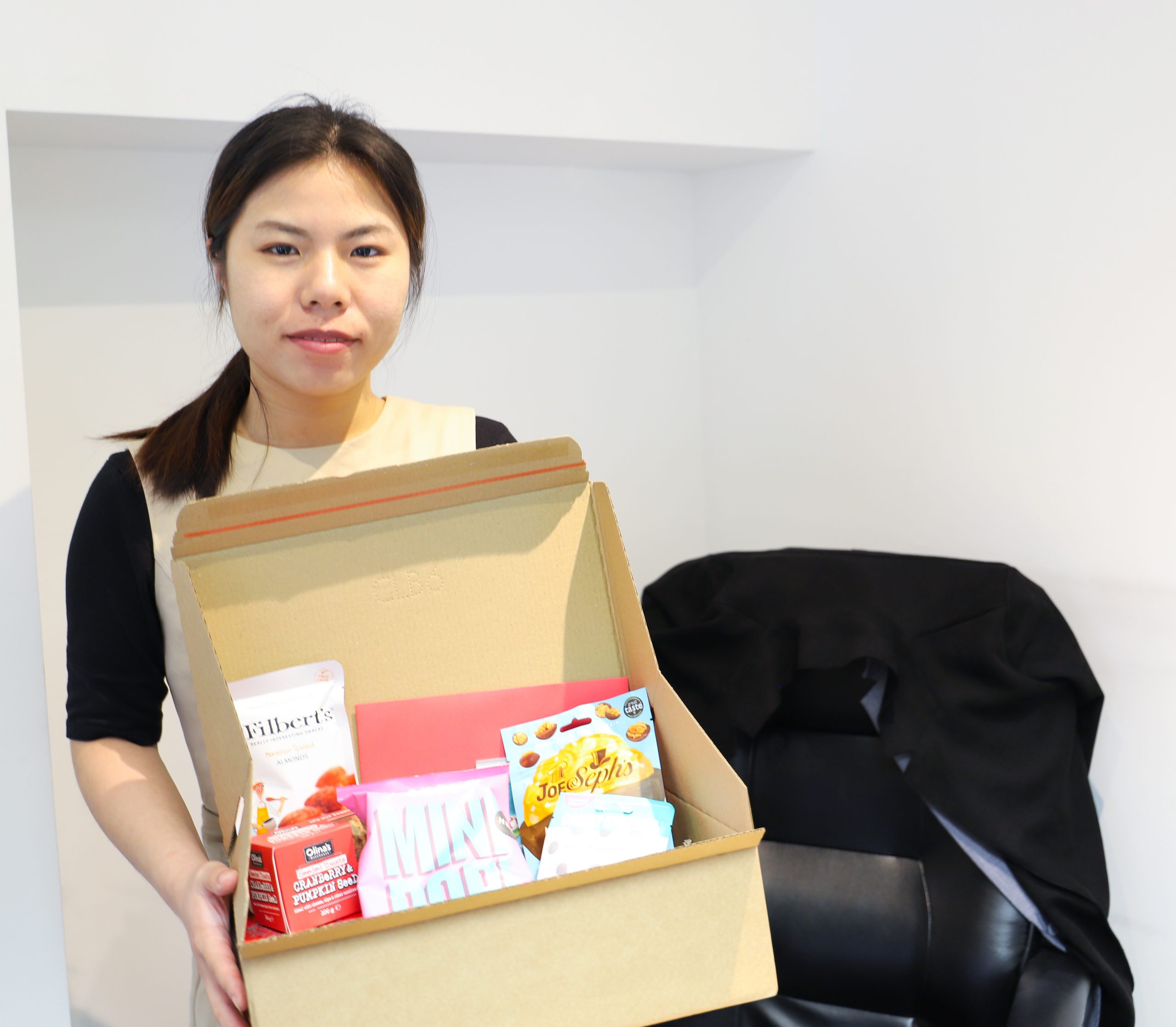 Yvonne has been working hard and definitely deserves her box of treats!
There you have it!
We have continued to grow and thrive over the past year and a half, and that is all down to our brilliant staff. We know how lucky we are to have each and every one of them, as they each bring their own individual spark to our firm!
Need some legal advice? We are here to help!
Call us on 020 7928 0276, phone calls are operating as usual and will be taking calls from 9:30am to 6:00pm.
Email us on info@lisaslaw.co.uk.
Use the Ask Lisa function on our website. Simply enter your details and leave a message, we will get right back to you: https://lisaslaw.co.uk/ask-question/ 
Or, download our free app! You can launch an enquiry, scan over documents, check progress on your case and much more!
Links to download below:
iPhone: https://apps.apple.com/us/app/lisas-law/id1503174541?ls=1
Android: https://play.google.com/store/apps/details?id=com.lisaslaw