In a recent statistical report on Covid-19 and the immigration system, it was noted that between the start of the UK lockdown on 23 March and the end of April, 295 people entered immigration detention.
231 of these people were classed as "clandestine entrants", which means they entered the UK via secretive means, or failed to make themselves known to Immigration Officers on arrival.
These 231 were held for no more than seven days at short-term holding facilities, but it must be remembered that this seven days does not include time spent being transferred from prisons to immigration centres.
Less people are currently being detained
The Home Office will not be emptying detention centres completely, which has been the source of some controversy given the current situation with coronavirus, but the number of people detained at any given time has fallen significantly.
According to the report, there were around 313 people left in immigration removal centres at the start of May, down from 368 in mid-April, 555 at the end of March and 1,278 at the start of the year. Most of these are foreign national offenders.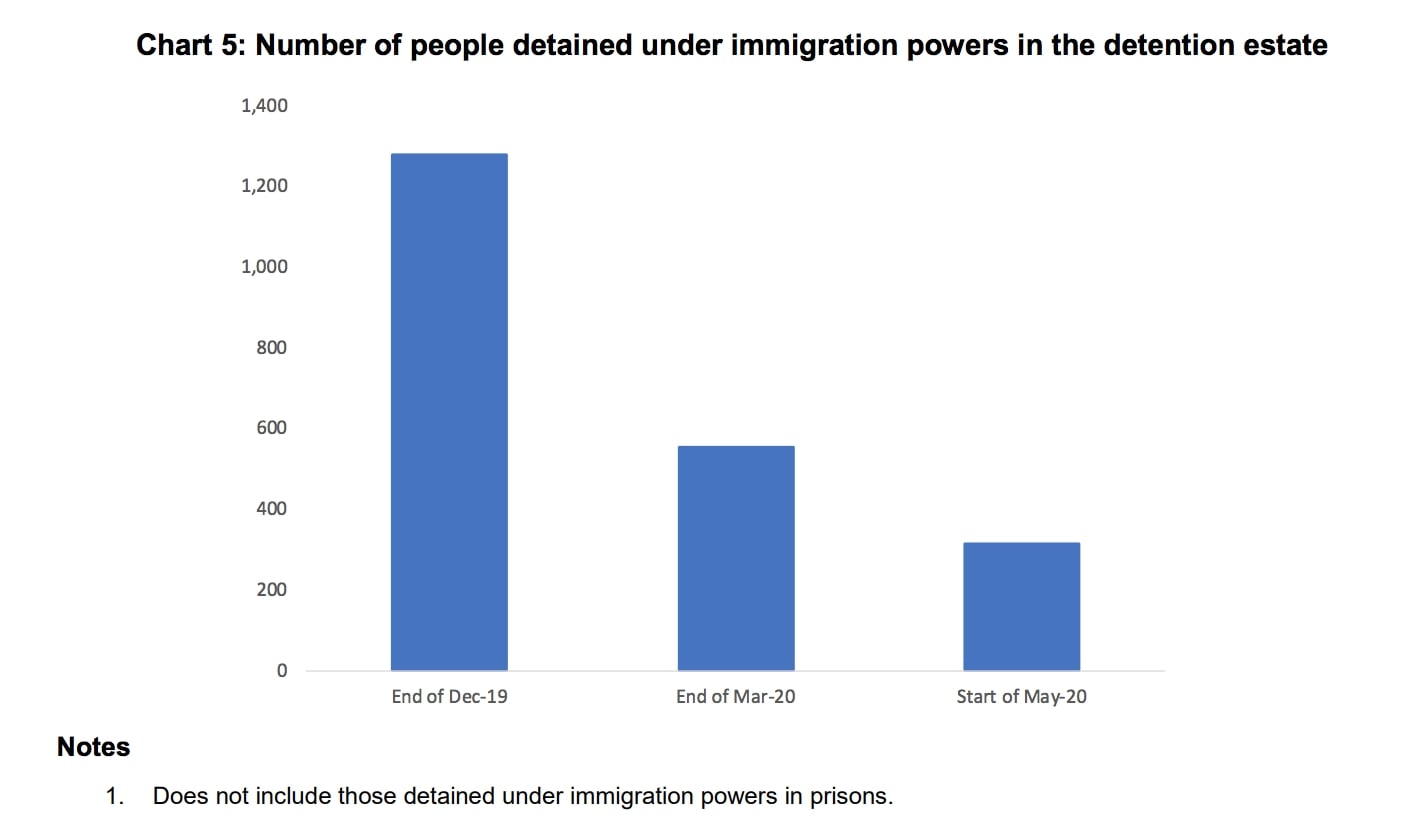 It is likely that the COVID-19 crisis has had a big impact on how many people the Home Office is detaining. We predict that once the lockdown rules are over, there will be a steady rise in these numbers once again.
What do we think of this?
It is clearly understandable that the Home Office must act where they find people are coming into the country illegally, or by questionable means. They must keep the public's best interest at the forefront of everything they do, and making sure that no undesirable characters are coming into the country unchecked.
However, the safety of these detainees is equally as important, and they must be looked after in COVID-19 secure environments, and using methods which discourage the spread of coronavirus.
Provided reasonable requirements are met, such as residing at stable addresses and provision of sureties, or where the risk of absconding is low, the presumption should always be that the detainees should be released on bail.
Under the immigration laws, people can only be detained for removal purpose; however, where the detainees have valid applications or in-country appeals pending, or become irremovable, whether due to their non-co-operation or not, the Home Office is under duty to review their detention decision and consider whether continued detention can be justified; otherwise, the detention could well become unlawful and be subjected to legal challenges.
Have questions? We are here to help!
We are operating as usual, and you can reach us on 020 7928 0276 or email in to info@lisaslaw.co.uk.
Or, why not download our free app today? You can launch a new enquiry, scan over documents and much more.
If you have an iPhone, follow this link to download.
If you use an Android phone, follow this link to download. 
Find the link here if you need some further instructions on how to use our new app!
You can also join our mailing list for weekly round-ups of our articles.