Home Secretary Priti Patel has revealed the UK's new points based immigration system and post Brexit visa rules in a document spanning over 130 pages, so we have broken down the key factors for coming to work, study or visit. More detailed articles on the specifics will follow, but this blog will largely cover the basics and give you a good understanding of how the system will work.
Skilled workers
The document specifies that 'anyone coming to the UK for work, including EU citizens, will need to demonstrate they meet a specific set of requirements for which they will score points. There is no overall cap on the number who can apply for this Skilled Worker route.'
This is not a vastly different system to what we have seen before, and essentially has applicants 'prove their worth' to the UK before being granted a working role.
The three main points for this route are as followed:
The applicant must have an offer of a job from a licensed sponsor;
The job must be at or above the minimum skill level: RQF3 level or equivalent (A-level or equivalent qualification). Workers will not need to hold a formal qualification. It is the skill level of the job they will be doing which is important.
The applicant must speak English to an acceptable standard.
Meeting these three requirements will earn the applicant 50 points. They must earn a further 20 'tradeable points' through a combination of points for their salary, a job in a shortage occupation or a relevant PhD.
If the applicant is paid the higher of the general salary threshold of £25,600 or the "going rate" for their particular job, they will get an extra 20 points
Applicants will only be able to score points for having a PhD relevant to the job. Sponsors will need to decide and be able to justify whether an applicant's PhD is relevant to the job they are sponsoring them for and to advise whether it is a STEM PhD. The list of relevant PhD's will be updated and altered accordingly.
There are certain exceptions which are possible in terms of salary, for example different minimum salary rules for workers in certain health or education jobs, and for "new entrants" at the start of their career – we will explore these in a later article.
Healthcare workers
The Health and Care Visa is part of the Skilled Worker route. It will ensure individuals working in eligible health occupations with a job offer from the NHS, social care sector or employers and organisations which provide services to the NHS, who have good working English, are incentivised to come to the UK.
Some more good news is that there will be fast-track entry, with reduced application fees and dedicated support regarding the application process, for eligible individuals to come to the UK with their families. Those who are eligible to apply for the Health and Care Visa, and their dependants, will also be exempt from having to pay the Immigration Health Surcharge.
Frontline workers in the health and social care sector who are not eligible for the new Health and Care Visa will pay the Immigration Health Surcharge, but will benefit from a reimbursement scheme. Further detail will follow in due course, we will keep you posted.
Who can apply for this route?
Individuals of all nationalities who have a confirmed job offer, in one of the defined health professions, for a skilled role within the NHS, the social care sector or for NHS commissioned service providers.
Global Talents
A strap-line that the Home Office has banded around recently is that it wants to 'attract the brightest and best' talent from around the world. On 20 February 2020 the government launched the Global Talent route, under the current system for non-EU citizens, to improve the UK's attractiveness to highly skilled individuals with specialist skills.
The Government has announced it will set up a cross-departmental unit called the Office for Talent. This will make it easier for leading global scientists, researchers and innovators to come and live and work in the UK.
The route replaced the old Tier 1 (Exceptional Talent) option and aims to attract global leaders, and the leaders of tomorrow in science, humanities, engineering, the arts (including film, fashion design and architecture) and digital technology.
Applicants must be endorsed by a recognised UK body, as approved by the Home Office.
Individuals can apply to one of the following endorsing bodies who will verify their expertise before they can apply for a visa:
The Royal Society, for science and medicine;
The Royal Academy of Engineering, for engineering;
The British Academy, for humanities;
UK Research and Innovation, for science and research;
Tech Nation, for digital technology;
Arts Council England, for arts and culture
This route will be open to both EU and non-EU citizens.
Start up and Innovator
The Start-up and Innovator routes are designed to attract entrepreneurial talent and innovative, scalable business ideas to the UK.
Applicants can be individuals or teams. The Start-up route is for those setting up a business for the first time, who need to work to support themselves while developing their business ideas. The Innovator route is for those with industry experience and at least £50,000 funding, who can dedicate their working time to their business ventures, or those moving from Start-up who are progressing their business.
Each applicant for Start-up and Innovator must have the support of an approved Endorsing Body. Endorsing Bodies are either Higher Education Providers or business organisations who have a track record of supporting UK based entrepreneurs and the support of a Government Department. Endorsing Bodies assess each application to ensure it is innovative, viable and scalable, and are responsible for monitoring the progress of the businesses they endorse.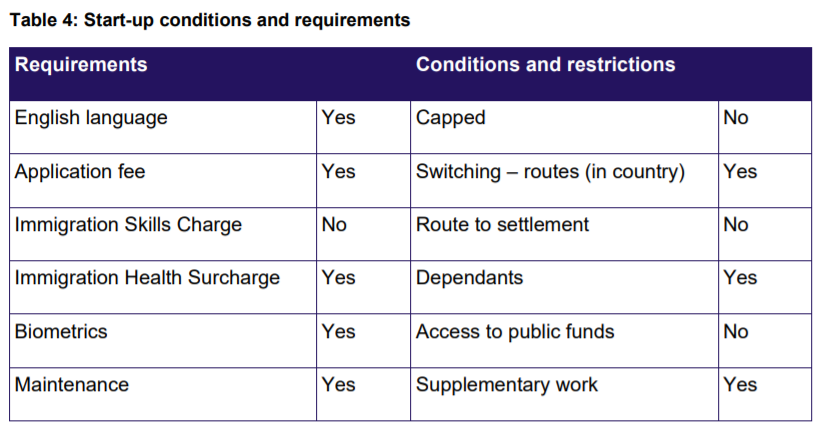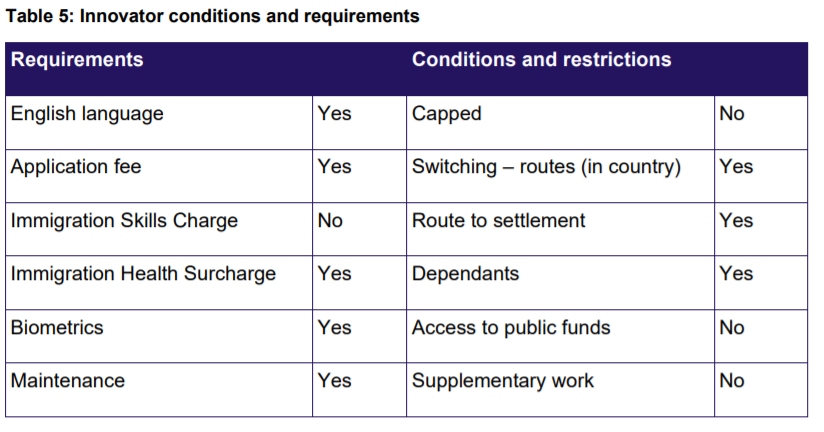 We will do a focused article on the specifics of this visa route soon.
Coming to study
There will be no limit on the number of international students who can come to the UK to study.
The core requirements of this route will remain: sponsorship at a licensed provider, demonstration of English language ability and the ability of the student to support themselves in the UK.
Students will require a total of 70 points to be granted leave. Points are non-tradeable and will be awarded for meeting the requirements of the route as set out in the table below.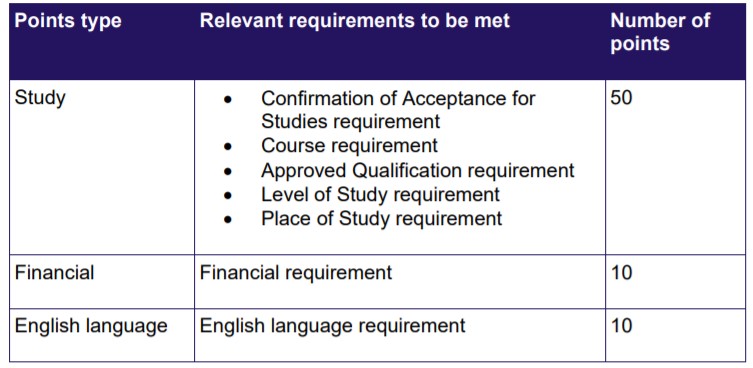 Students with an unconditional offer from a sponsoring institution, who can demonstrate they genuinely intend to study and can meet all the relevant requirements of the route.
Another amendment worth considering is the period of time in which a student can apply for permission to come to the UK before the start of their course is increasing from three to six months.
The government is also removing the study time limit for students studying at a postgraduate level, although students will still be expected to be progressing academically in their studies when making a further application in the UK. Students who meet eligibility requirements will be able to make an in-country application for further leave regardless of their sponsor or level of study.
There are a lot more details about various options for people coming here to study, but we will go into those in a separate article.
Graduate route
The Home Office are launching the Graduate route in Summer 2021 to allow those who have completed a degree at a UK Higher Education Provider, that has a track record of compliance, to stay in the UK for two years (three years for PhD graduates) and work at any skill level, and to switch into work routes if they find a suitable job.
This will be an unsponsored route. All successful applicants will be granted a one-time non-extendable leave period of two years if graduating at undergraduate or masters level, or three years if graduating with a PhD, on this route and will be able to work, or look for work, at any skill level during this period.
Who can apply for this route?
The Graduate route will be open to international students, who have valid leave as a Tier 4 (General) Student or as a Student at the time of application and who have successfully completed a degree at undergraduate level or above at a UK Higher Education Provider with a track record of compliance during that grant of leave.
Applicants must have completed the entirety of their degree in the UK except for permitted study abroad programmes or when distance learning has been necessary due to Covid-19.
The route will not have a maintenance requirement and applicants will not need to demonstrate English language ability as they will already have proved English language ability by successfully completing a degree at a UK university. Applicants will need to pay the Immigration Health Surcharge at the usual rate for the Points-Based System's routes (this fee will be increased to £624/year from 1st October 2020). This route will not have recourse to public funds.
Coming to visit
The end of Free Movement will mark the beginning of the UK's dedication to only allowing what the Home Office deems 'legitimate travellers who support the economy and enrich society and culture' in the UK.
Visitors will, on the most part, be able to stay for up to 6 months. A visitor may enter the UK multiple times during that period, but they may not in effect live in the UK by means of repeat or continuous visits. They may not work or access public funds. Currently they may not study for more than 30 days.
There will be a wide range of activities that are seen as legitimate reasons for visiting the UK. As well as general tourism purposes and visiting family, business people can come to the UK for meetings and to negotiate and sign business contracts; leading academics can present their latest research; scientists can share their knowledge with colleagues on international projects. It will be a fairly open style plan in terms of visitation, which is good to see.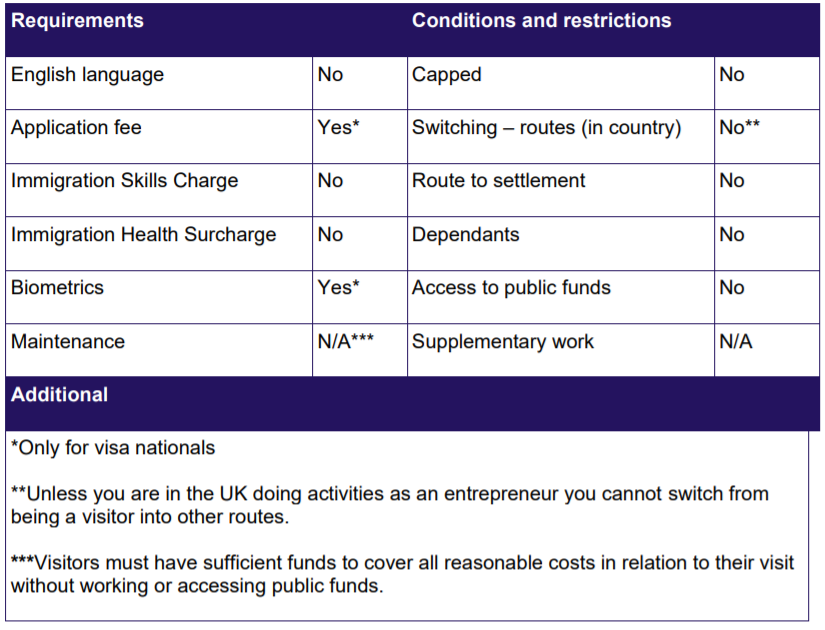 A lot more routes
Of course, this articles purpose is to give you the basic outline of coming to work, study or visit the UK. There is a huge amount of other options and ways into the UK, from Sporting Routes to Creative Routes, or even Ancestry options.
We will be doing more in depth articles on specific routes in the coming weeks, and you can always check out the complete guidance yourself here.
Have any questions? Contact us today!
In the meantime, we are operating as usual, and you can reach us on 020 7928 0276 or email in to info@lisaslaw.co.uk for any questions you may have on this topic.
Or, why not download our free app today? You can launch a new enquiry, scan over documents and much more.
If you have an iPhone, follow this link to download.
If you use an Android phone, follow this link to download. 
Find the link here if you need some further instructions on how to use our new app!