HM Revenue and Customs (HMRC) presents monthly estimates of residential and non -residential property transactions in the UK and its constituent countries, and as you'd expect that last couple of reports have shown a downward trend due to the COVID-19 pandemic.
You can check out our report on the April report here: Lowest rate of property transactions for over a decade! But how can you benefit?
The most recent report is more positive, with rates of property transactions on the up. It might not be the most significant rise, but it is certainly an indicator that a return to normality is on the horizon.
What do the numbers tell us?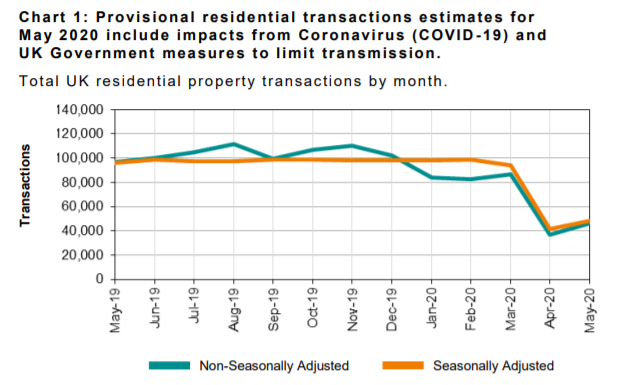 As you can see from the above chart, the usual amount of transaction of residential properties in the UK fluctuates between 80,000 and 100,000 each month.
Since COVID-19 started making headlines late last year, and more so in the early months of 2020, these numbers have steadily dropped. For April they were right down to around 40,000 – less than half of the usual amount.
These drops are a result of people feeling uncertain about their futures in the current climate. People found themselves worrying about their job security, the health of their family and themselves. Understandably, this can make completing any house hunting goals quite difficult.
Moving from April to May, however, we can see things moving upward. This coincides with restrictions being lifted and more people following through on their plans to buy and sell property. The world is beginning to be less paralysed by COVID-19.
While the numbers are almost half of those in May 2019, they are 16% better than April 2020 – so it can only be seen as a good thing for the market in terms of the current climate.
As you can see, the trend is very similar for non-residential properties: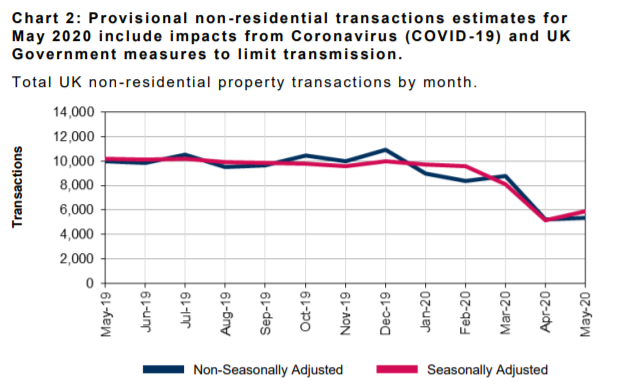 Note: Non-residential property includes commercial property; agricultural land; forests; any other land or property which is not residential; six or more residential properties bought in a single transaction, and mixed use transactions.
The market is open for business, and we are here for you!
Even though COVID-19 is still having a major effect on the world, these numbers show us that we are on the road to recovery. It is nice to see this upward trend, and we hope the property market improving will pave the way for all other aspects of everyday life to improve alongside it.
If you have any questions about buying or selling property, we are here for you. We have lawyers specialising in property and conveyancing ready to guide you every step of the way.
Have questions? Contact us!
We are operating as usual, and you can reach us on 020 7928 0276 or email in to info@lisaslaw.co.uk.
Or, why not download our free app today? You can launch a new enquiry, scan over documents and much more.
If you have an iPhone, follow this link to download.
If you use an Android phone, follow this link to download. 
Find the link here if you need some further instructions on how to use our new app!