HM Revenue and Customs (HMRC) presents monthly estimates of residential and non -residential property transactions in the UK and its constituent countries.
With the world so affected by the COVID-19 outbreak at the moment, we can tell by the recent reports that purchases are on a massive downward trend.
The Figures presented in these reports are based upon records by HMRC, Revenue Scotland and the Welsh Revenue Authority (WRA) for Stamp Duty Land Tax (SDLT), Land and Buildings Transaction Tax (LBTT) and Land Transaction Tax (LTT) respectively.
The numbers are clear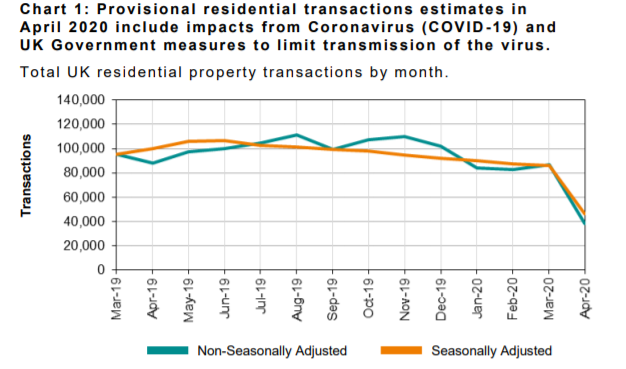 As you can see from the above chart, the usual amount of transaction of residential properties in the UK fluctuates between 80,000 and 100,000 each month.
Since COVID-19 started making headlines late last year, and more so in the early months of 2020, these numbers have steadily dropped. For April they were right down to around 40,000 – less than half of the usual amount.
These drops are a result of people feeling uncertain about their futures in the current climate. They are finding themselves worrying about their job security, the health of their family and themselves. Understandably, this can make completing any house hunting goals quite difficult.
Also, the strict social distancing restrictions on estate agents and rules about viewings put in place by the government over the last couple of months have taken a toll on these numbers. Some of these restrictions have now been lifted, with viewings taking place with safety measurements in place, however we still expect numbers to do a lot lower than normal.
Find our article on the current situation with moving home here: Moving house is possible once again – but how will it work with social distancing rules?
Note: Residential property refers to buildings used or suitable for use as a dwelling, or in the process of being constructed for use as a dwelling. It also includes the gardens and grounds of dwellings.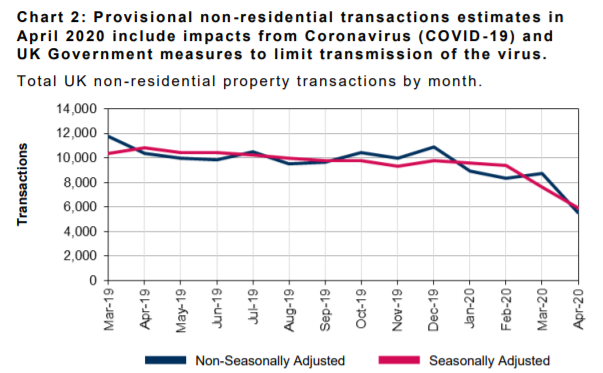 As you can see here, the non-residential property market has been hit as well, much for the same reasons. Like the residential market, the losses amount to around half the usual amount of business, down from highs of 12,000 to around 6,000.
Note: Non-residential property includes commercial property; agricultural land; forests; any other land or property which is not residential; six or more residential properties bought in a single transaction, and mixed use transactions.
Looking back…
This drop in property transactions is comparable to levels not seen since the 2008 global financial crisis.
The table below shows the amount of transactions, year on year: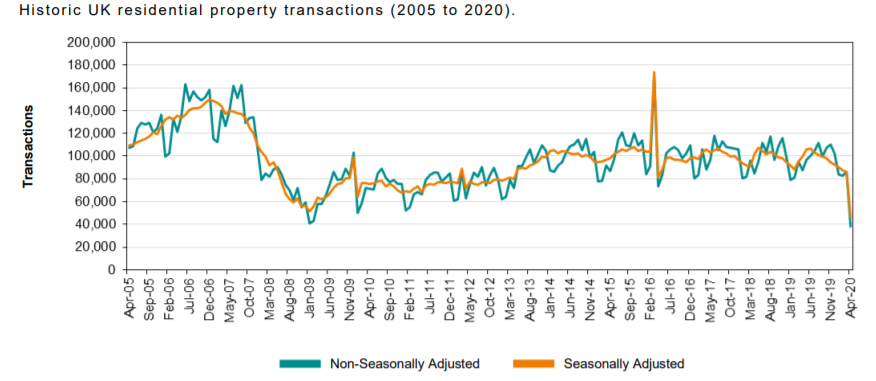 As you can see, levels have not reached the heights of 2006/07 for some time, and we currently find ourselves at one of the lowest points for transactions in decades.
The March 2016 peak you can see here was associated with the introduction of higher rates on additional properties from April 2016.
What do we think?
We have many lawyers in our firm specialising in property law, so we were expecting to see results such as these as soon as it became evident that the coronavirus outbreak was not going to pass quickly. The nature of the disease and the restrictions in place because of it all point to a halt in the market, and this is exactly what happened.
The market is still open and we can help!
Even though the numbers are down, the market is still open and you are still able to buy and sell property. We can guide you through every step of the way if you are looking to buy or sell property.
Even if it seems like nothing good can come of the situation with COVID-19, we are always looking for a silver lining. Especially with those looking to buy a property, the draught within the market may pave the way for some more affordable deals, and you could be surprised with some unexpectedly low asking prices.
We have the professionals to help you whenever needed in your property transactions!
Have questions? Contact us!
We are operating as usual, and you can reach us on 020 7928 0276 or email in to info@lisaslaw.co.uk.
Or, why not download our free app today? You can launch a new enquiry, scan over documents and much more.
If you have an iPhone, follow this link to download.
If you use an Android phone, follow this link to download. 
Find the link here if you need some further instructions on how to use our new app!